Enterprise NAS for the Public Cloud
NexentaCloud in AWS delivers a rich data storage solution based on the award winning NexentaStor enterprise SDS platform, increasing storage efficiency for public cloud through data reduction, enhanced visibility and management of your cloud workloads.
To learn more, download the NexentaCloud in AWS Data Sheet.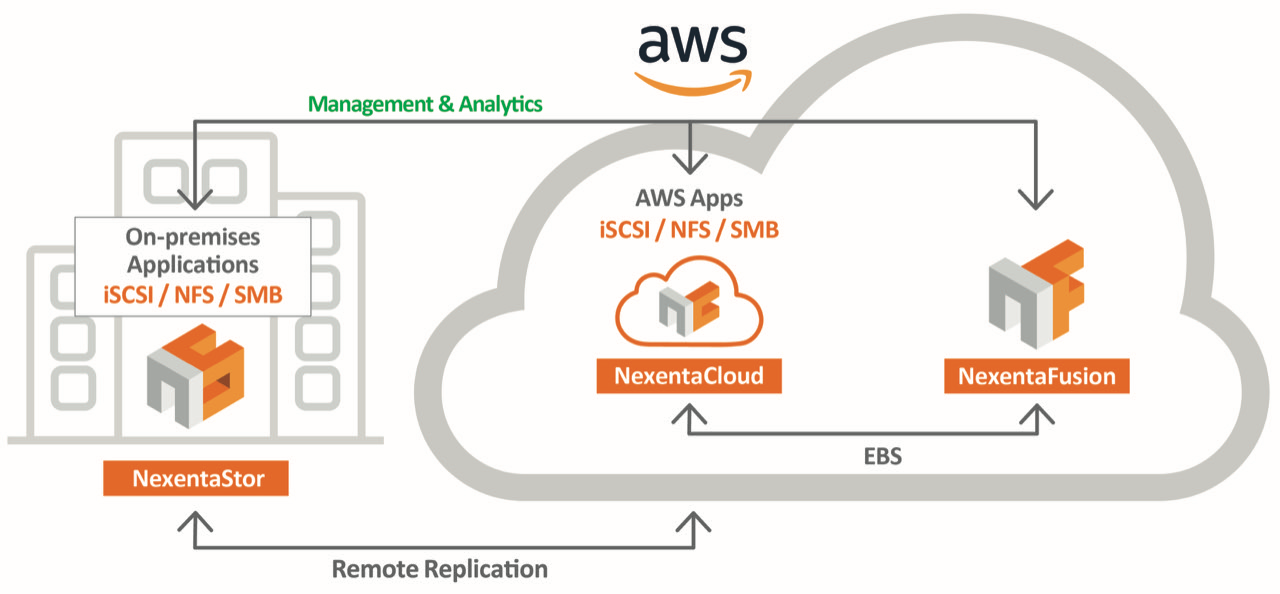 NexentaCloud Differentiation
| | | |
| --- | --- | --- |
| Full featured file (NFS and SMB) and block (iSCSI) storage array | Improved cloud resource efficiency through data reduction, thin provisioning, snapshots and clones | Seamless replication to/from NexentaStor and NexentaCloud |
| Rapid deployment of NexentaCloud instances for test/dev operations | Advanced Analytics across your entire Nexenta storage environment | Migrate legacy applications to the cloud without re-architecting |
Use Cases
True Enterprise File Services in AWS

Enterprise file storage through NFS and SMB protocols with snapshot and clone capability available to local and remote users all based and presented from the cloud.

Cloud Disaster Recovery

Providing the reassurance and business continuity your IT environment requires. Consistent replication management across your data centers and Amazon's cloud.

Self-Service Test/Dev

Support development and test efforts with rapid deployment of small to large storage solutions utilizing automated workflows and optimized cloud instances, resulting minimized cost and less shadow IT usage.

Migrate Legacy Applications

Reduce production outages and decrease application migration cost by migrating legacy application workloads from traditional on-prem NAS and SAN solutions to a unified cloud based platform without the need to redesign the application or end user workflow.
Preconfigured Packages for NexentaCloud on the AWS Marketplace
NexentaCloud in AWS software runs in the cloud in an Amazon Elastic Compute (EC2) instance and has been packaged to provide you with the ability to choose the size you need for your particular workload.

​