Full-Featured SDS for Enterprise Applications
NexentaStor delivers full featured unified file (NFS and SMB) and block (Fibre Channel and iSCSI) storage services and can scale from terabytes to petabytes. As the leading software-defined storage solution on the market, NexentaStor can be deployed on bare metal hardware to replace legacy all-flash, hybrid and all-disk storage appliances, or in virtual machines on private cloud to add enterprise grade file services to traditional SANs and hyper-converged infrastructure deployments.
The combination of NexentaStor 5, the mature and battle-tested award-winning storage platform, and NexentaFusionfor single pane of glass management provides ultimate flexibility and ease of use for customers looking to modernize their traditional enterprise storage infrastructure and transition to software-defined infrastructure.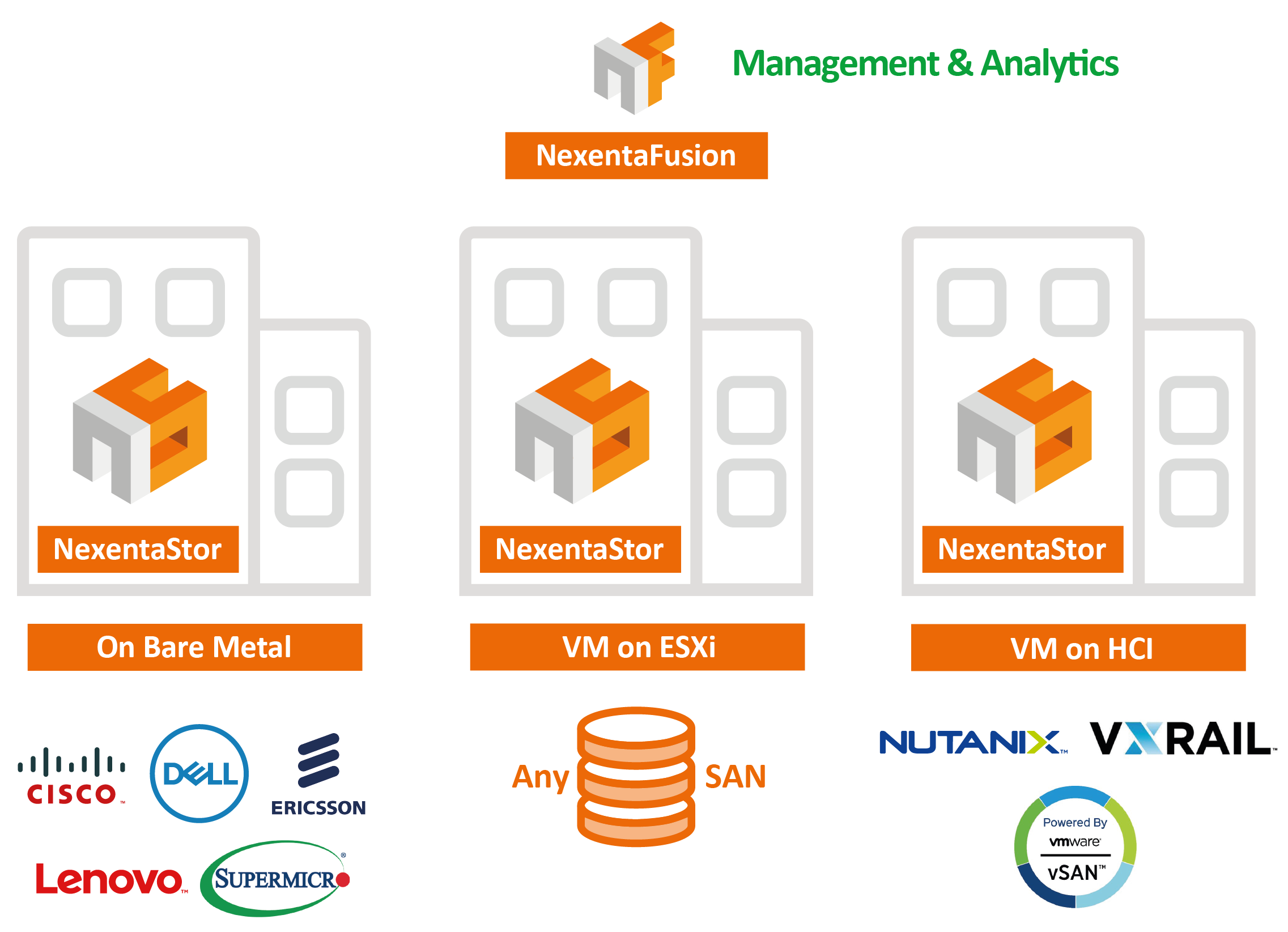 NexentaStor Differentiation
Built for Enterprises

Enterprise grade storage services battle tested over more than 2,000 PB deployed. Ready for hybrid cloud through seamless integration with NexentaCloud

High Performance

High performance unified block and file services for databases, enterprise NAS and private cloud deployments

Complete Feature Set

Full featured perpetual license includes inline data reduction, unlimited snapshots, long distance replication and simple management with NexentaFusion

Agility of Software

Flexible software that can be deployed on bare metal hardware, or as virtual storage appliances on private cloud and hyper-converged infrastructure

Lower TCO

Eliminate the cost and limitations of traditional storage hardware appliance. Freely repurpose software to new hardware or migrate to virtual appliances

REST API First

Built on state of the art self-documenting REST API management framework providing ease of programmability and orchestration for DevOps teams
Use cases
Flash for Any Workload

Harness the power of high performance & low latency storage and move more workloads to flash with SDS.

Enterprise File Services

True enterprise class NFS and SMB protocols proven in complex enterprise Active-Directory infrastructure, with unlimited file size, scalability and performance.

Virtual Workloads

Integrated & optimized for VMware, Microsoft, & OpenStack infrastructure environments.

Backup & Archive

From 10's of TB to multi-PB deployments. Highly durable with rich data integrity to protect critical information. Certified with Commvault, Veeam, NetBackup and others.
Deploying NexentaStor on Your Terms?
With NexentaStor software solution you have the flexibility to deploy on your own terms.
NexentaStor Hardware Reference Architectures

NexentaStor works with leading companies including Cisco, Dell, HPE, Lenovo, Supermicro and others to deliver the right solution for your applications and workloads. To learn more visit our Hardware Compatibility List.

NexentaStor Virtual Storage Appliance (VSA)

As a software only solution NexentaStor is easy to deploy to an existing SAN or HCI system to provide enterprise NAS functionality to your existing environment.
Reference Architectures Include:
Get to Know NexentaStor 5
Learn all about the latest version including a demonstration of NexentaStor and NexentaFusion.
NexentaStor Add-Ons
Nexenta High-Availability
Fibre Channel Plug-in
VMware vCenter Plug-in
OpenStack Plug-ins